Angels 101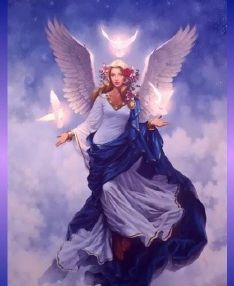 An Introduction to Working with the Angelic Realm


TELECLASS: Conducted over the telephone for your convenience. 
All sessions are taped and can be listened to for 1 week, and MP3 download is available.


Wednesdays @ 4:00 p.m. PST / 7:00 p.m. EST

  November 2nd - November 30th
(off November 23)


ANGELS 101 Course Includes:

~1 hour Angel Therapy®  Session with Krista-Lynn ($178 value)

~ 4 Teleclasses: 75 minutes each: You are encouraged to attend each week at the set time, but should you need to miss a class, sessions are taped and can be listened to for one week, and they are also downloadable (MP3).
($400 value)

~ Angelic AMPLFIER!: You will have a private phone consultation with Krista-Lynn (1 total) where you can ask questions, request additional support, make suggestions, get feedback and receive personalized tips for communicating with your angels. ($150 value)

~MP3 Downloads of Angelic Meditations and Visualizations ($64 value)

~ Angel Therapy Card Deck: You will receive a deck of Doreen Virtue's Angel Therapy cards (44 in deck) which will increase and enhance your ability to communicate with angels. Learn how to do angel readings for you and your friends and family. Remember: the angels are always available - all we have to do is ask!  ($15.95 value)

~ SUPPORT: Throughout the class, and for one month after, you will receive unlimited email support from Krista-Lynn, who will be with you through every step of your awakening. (Priceless!)

~ Course Guidebook: Each week you will receive a reading assignment, sent via email. Included will be an overview of the week's topic; coaching questions, to deepen your learning; and additional assignments (exercises), to be done at your own convenience. ($55 value)


***Class size is limited to allow for plenty of one-on-one attention.
Every participant will receive time for questions and personalized feedback.


Course fee: $444

($805.95 value)
Enroll by October 15th for Additional Savings!
ONLY $400
ENROLL NOW:


Week 1:
 Clearing the Way

This week's class explores who angels are, what they can help you with, and how to communicate with them. Angelic Meditation will clear and remove fears and doubts that may be blocking your reception of divine guidance. Your heart, third eye, and ear chakras will be opened and activated; instantly enhancing your reception of heavenly messages.


Week 2:
 Ask & You Shall Receive

 In this class you will call forth the assitance of your Guardian Angels. Angelic meditation will connect you with the two angels who stand by your side from birth till death. Exercises to consciously connect with angelic realm.
Mastering the art of asking.


Week 3:
 Angels, Angels, Everywhere

This class works more deeply with your Guardian Angels, and further opens and activates your channels of reception. Angelic Meditation calls forth the highest realms of heaven's angels, for a life review, and tools that are custom designed just for YOU! This class brings answers and insights.


Week 4:
Heaven-on-Earth

This class is an immersion into the angelic realm, where you will bask in the light (clarity) of heaven. An Angelic Meditation brings you into the future, to see the person you were born to become. The essence of your Life Purpose will be revealed as you work with your Guardian Angels to review the Akashic Records - exploring the lifetime of your soul - and your Divine Blueprint; which is the best your life can be. Connect with Guardian Angels to be reminded of who you really are, and how you can best serve (enjoy your life) 

Course fee: $444

($805.95 value)
Enroll by October 15th for Additional Savings!
ONLY $400
REGISTER NOW


Payment plans - split into 2 payments of $222 each - can be made.
Contact Krista-Lynn directly to inquire: KL@Krista-Lynn.com
NEW OPTION!

À LA CARTE
$200
*No Private Session, Angel Cards or Meditations*
Includes: 4 teleclasses, Course Guidebook and 10 Minute "Angelic Amplifier" ONLY